If you ever tried to pitch ideas to popular blogs and influencers, the chances are you have come across some who didn't make it easy to contact them.
The reason for that is actually quite understandable. According to our own experience and research, popular blogs get dozens of pitches every day.
One way to combat that problem is to "hide" their contact information, so that when they get a pitch from you, they know you actually put in some effort to find the right email address.
The good news for all of us who need to do some blogger outreach from time to time, finding relevant contact information isn't always that complicated and can be done without opting in for paid tools.
Let's start with the most basic approach and move from there.
1) Inspect their website
Even when web designers get creative with the page layout, your best bet for finding contact information should be placed on checking the header and footer of the page. You're looking for a link to a contact or about us page.
If you stumble upon something like "write for us", "contribute to" or "guest post guidelines", then you are in luck. These sections include all the information you need to know before pitching your ideas, including the preferable email address or a submission form. They are often found in the footer of the page:
Keep in mind that, sometimes, the only way to contact bloggers is through the contact form on their page. That can be annoying if you're trying to automate the whole process as you have to send the email manually. Is it worth the time? Depends on how hard you want to get a reply from the site in question 🙂
2) Google is your friend
If I can find a video of two cooling towers having a tea party and freaking out when they realize they are being demolished…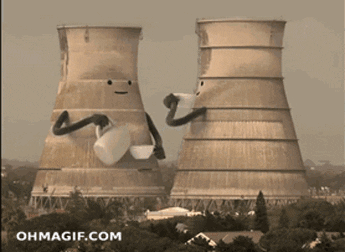 …why wouldn't I just google the contact info? Your question isn't actually half bad. There are some "tricks" you can use to let Google help you.
If you have trouble finding the write for us page, write in the URL:
If this isn't working, you can replace "write for us" with any of the keywords (about, guest posting guidelines, contact…) mentioned in the previous step.
3) Check social network pages
You searched their website/blog but contact info is nowhere to be found. The next step is to check their social network accounts. From our experience, one thing that is definitely worth checking out is the about section on their Facebook page as it quite often features a contact info.
While it isn't always the most relevant info (in a sense that the email isn't checked by a person in charge of content), something is better than nothing.
If you want to be even more meticulous, you can check their blog posts and try to find the author's name. If you are able to do that, you can check their social accounts to try and contact them directly. Just try not to look too creepy.
While you're at it, don't forget other social channels. Twitter and LinkedIn are obvious choices. You can use the LinkedIn email finder from Reply to find email address when you know the name of the person you want to contact.
4) Use specialized software to find blog email address
There are quite a few apps/plug-ins out there developed specifically to help you find the right blog email addresses. Some decent freeish (limited number of searches per month in free versions) options are:
If you are not willing to pay for finding contact information, check out our in-depth test and review of the best free email finder tools on the market.
Even though all of them are good choices to go with, we will concentrate more on Clearbit since it's the one we use the most.
Clearbit Connect is directly connected to your Gmail account so if you want to use it, you need to have one and be logged in. Everything from there on is really simple. Click on the Clearbit icon and write the name of the blog/company/domain. If Clearbit database contains any relevant data for your query, you will get something like this:
You can click on any of the names to get more details.
What's particularly useful about this program is the job description part. Why would you send your guest post pitch idea to an account manager if you know the editor's e-mail address? You want to send that pitch to the person who has the authority to give you a clear answer.
Remember that software is only here to help, it's not a perfect solution. To reduce the number of spam requests, bloggers found a way to mask their contact information so tools like these can crawl the page as much as they want, but they won't find anything useful.
They can do that in a couple of ways. The first one is to place the contact info as a part of a picture. The second one is to write that contact info in some unusual form: [name AT domainname DOT com]. In both cases, the specialized software will struggle to find the right email address.
Another thing to be wary of when using these kinds of programs is the possibility that some emails they found have nothing to do with the blog itself. Algorithms in use often just scan the website and throw at you every email address they can find. They don't care if a particular email address is just from a random person that wrote a comment 3 years ago.
The easiest way to double-check these results is to check if the email address is associated with the right domain.
There are a few exceptions when the website domain doesn't actually match the domain used in the email:
Small personal blogs. It is not rare to find blog owners that only have a Gmail or Hotmail account.
The blog is owned by a parent company. In rare cases when a business becomes a subsidiary, the editorial duties might be transferred to someone who works at the parent company – so you need to search for their email address.
(Media) publications. Editors at some publications can sometimes be employees of different media companies (like in the example below where editorial contact doesn't use the website domain in its email).
5) Find email address by name
It is a real struggle when you know the name of the person you want to reach out to, but can't find their email address.
QUICK TIP: You can open a few blog posts and find who is often signed as the author/publisher. If you can find such a person, it is almost always worth reaching out to them. Just make sure you aren't actually mistaking the author for a regular guest contributor.
When you know the name of the person and the domain, you can try to find email address in 3 different ways (starting from the most reliable one):
Use email finder tools covered above. Almost all of these email finders let you do a search using "name + domain".
Make an educated guess. Let's say you find contact info from a CEO and product manager, but you only know the name of the editor. If both contacts have the same format (i.e. [email protected]) it is likely that the person you want to reach out to uses the same email format.
Do a blind guess and test it. Try to guess usual formats (ie. [email protected]) and see if anything useful comes up when you google it. You will probably want to use an email checker – but keep in mind that these free checkers are pretty unreliable and that you are better of using email finders instead as they have more accurate email verification features.
6) Use a blogger outreach tool
If you're not familiar with them already, the main purpose of blogger outreach tools is to save time on your outreach projects by automating the outreach process as much as possible.
One of the things they automate is finding email addresses. Below is an example from Pitchbox (blogger outreach tool we use).

As you can see, it also tries to pick up the name you can use to personalize your outreach emails. Additionally, if you click on the star in the bottom right corner, you can get more useful info like associated social media accounts and job description (if PB is able to crawl that data).
An important thing to note here is that outreach tools have the same problem as the aforementioned specialized tools. Some email addresses they find might not actually be associated with the site you are trying to contact. That doesn't happen often, but it can happen, so you need to keep your eyes open and don't become too comfortable with the automation they offer.
If you are in the market for a blogger outreach tool, be sure to take a look at our 8k word review of best blogger outreach tools on the market.
How to contact bloggers
You do not have to have a Nobel prize to be good at outreach. You need only 3 things:
the right email address (duh!)
a good pitch
willingness to put enough effort into site research and pitch personalization
Find the right person to pitch to
To make things simple here, the ideal people to pitch content too are managing editors and content managers.
The one hard exception is when guest posting guidelines give you a different email address to pitch to.
If a particular website is really important to you, even when you aren't able to acquire the editor's contact, don't be afraid to reach out to other email addresses you found. If you follow the order of priority given in the picture above, it's likely that even the alternative contacts are in touch with people in charge of content which means there's a good chance that your pitch will be forwarded to the right place.
Write a good pitch
Writing a pitch is often much harder than finding the right email address (at least that is the impression we get looking at the see of horrible pitches we receive on a weekly basis).
If you struggle with writing your guest post pitches, check out our tried and tested samples below or read our in-depth guide on how to write a perfect pitch.